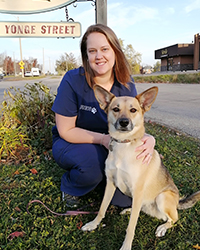 Meghan is thrilled to be the newest member of the Aldergrove family, having joined us in September 2020!
Meghan has always been an animal lover and grew up with her lab/hound cross – Spike.
She worked briefly as a dog groomer before starting her career as a veterinary assistant five years ago and has since earned certification in fear free pet handling, canine first aid and canine CPR.
She loves building relationships with clients and their beloved pets and helping to give them the best care possible.
Meghan, along with her husband Cory and son Clark, hope to rescue a four legged family member to add to their household in the coming year!